BLADE Care acts as a one-stop shop for all medevac needs by ensuring people don't spend time connecting with multiple parties in case of an emergency.
We arrange aero-medical services for both COVID and non-COVID patients with a team of certified doctors, paramedics, and clinicians onboard. Every flier is assigned a dedicated BLADE relationship manager, who provides assistance throughout, from booking their flight to ensuring they reach their destination safely.
Organ Transfers
After donor organs are made available there is just a short time span from when the organ can be reimplanted to a patient in need. At BLADE we are able to activate these transfers as soon as possible transferring these organs safely from the donor site to the recipient. BLADE Cares Donor Organ transportation is mainly set up for safely transporting organs like the heart, lungs, kidney, pancreas, and eyes.
Critical Care Evacuations
These entail transporting critically ill patients through BLADE Care's network of air ambulances from the nearest evacuation site to the closest or desired health care center within a short duration as comfortably and safely as possible.
Planned Medevacs
BLADE Care is equipped to facilitate and provide the quickest travel options for patients who are too sick or weak to endure the rigors of commercial flights, or long road journeys, or need specialized medical equipment to accompany them during their travel.
How BLADE Care Works
Evaluation: The team discusses the case with the patient's primary healthcare doctor(s) for an in-depth understanding of the criticality and needs of the patient and receives final paperwork like an NOC.

Cost Approval: Anticipated cost of the entire bed-to-bed transfer is shared with the patient's next of kin for consideration and approval along with the time frame for transfer.
In the meantime, BLADE Care activates necessary assets to be operationally ready to execute the medevac at a moments notice.

Groundwork: Post approval the team finalizes the ground ambulances to move the patient to the airport where the aircraft will be waiting with requisite equipment along with doctors or EMTs prepared for in-flight support.

Transit: The doctors & EMTs take full responsibility for the patient in flight and follow the instructions provided for the patient's care by the primary healthcare doctor(s).

Destination: The patient is transferred via a seamless process from the airport to the concerned destination hospital with a final sign-off from the consulting doctor so that continuity of care is maintained.
BLADE Care Aircrafts and Helicopters
Mid-size fixed-wing aircraft that are quick to mobilize like the Beechcraft King Air, Cessna Citation Jets, etc.
We also facilitate Organ transfers and evacuations in helicopters as they can fly into and out of hard-to-reach places. BLADE care has an aggregated fleet of Helicopters like the Bell 206, 505, 407, The Airbus H125, 130, and Agusta 119 to help facilitate these transfers.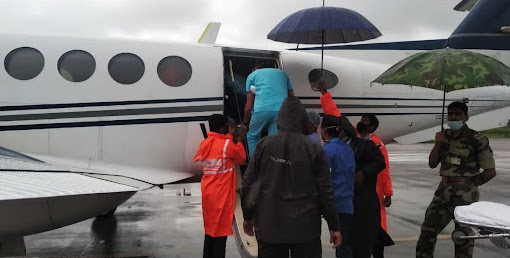 Actor Diganth Manchale was Medevaced safely from Goa to Manipal Hospital Bangalore.
Bed-to-bed medevac of a critical patient from Bhubaneshwar to Pune.
In this case, the patient was received from Gurgaon, Delhi's COVID isolation facility, and transported by ambulance to Delhi Airport. After which the patient was medevacked to Mumbai, transferred to an ambulance, and transported to the hospital. The process started at 6 am when the patient entered the ambulance, by 10:20 am the patient was safely transferred to Mumbai hospital.