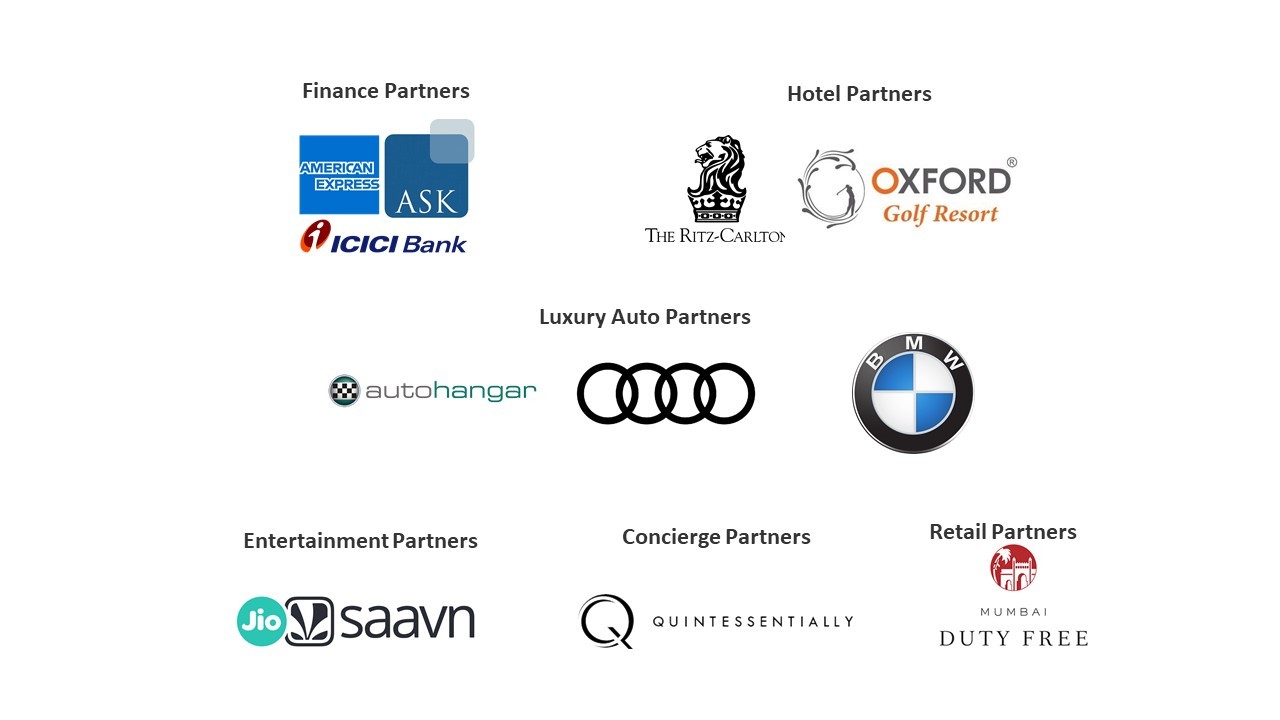 We focus a lot on brand partnerships because we believe the best experiences emerge when the best brands unite. We integrate some of the most exclusive brands across industries in the BLADE journey to further enhance our seamless experience. Attention to finer details in every touchpoint is what makes us stand out.
We not only integrate the best brands in our customer experience, we also collaborate with them to create special travel packages, privileges and pricing benefits, to give our customer an experience that goes beyond a helicopter flight.
The benefits are specifically designed to be availed by our partner brand patrons.
For further information on our partner benefits and privileges, please sign up here or give us a call at 1-800-102-5233.
Finance Partners
Our financial partner brands open up a world of benefits, offers and rewards for you. If you are an AMEX, ICICI or an ASK customer, sign up here to avail price benefits and complimentary per person carriage contracts on your next flight with us.
Hotel Partners
Ritz Carlton Pune
After staying indoors for so long with no holidays for a breather, we've curated special travel packages with waivers on the overall booking costs. Experience the quintessential BLADE journey followed by a luxurious stay at Ritz Carlton, Pune for the ultimate staycation.
Oxford Golf Resort, Pune
Calling all golf enthusiasts to experience one of Asia's best maintained Golf courses. Built on 150 acres of verdant greenery, Oxford Golf Resort is the perfect destination to spend a few days golfing with friends and relaxing.
To know more of partnership benefits, mail us at [email protected] or contact our Flier Relations team at 1-800-102-5233.
Luxury Auto Partners
Be among the first to experience the newest Mercedes and Audi models that come to drop you off to your desired destination post landing.
Autohangar customers also avail offers on booking with BLADE.
BLADE customers can avail special price benefits on the purchase of their newest Audi. Sign up here to receive regular information on our partnerships.
BMW Excellence Club
An exclusive partnership purely for the BMW Excellence Club members to avail special prices and travel privileges.
Entertainment Partners
We've partnered with Music connoisseurs in India, Jio Saavn for your entertainment. Only BLADE Audience can enjoy the highly curated playlists made by the team at Jio Saavn. Jio Saavn pro users get a little something extra with BLADE.
To know more, email us at [email protected] or call us at 1-800-102-5233
Concierge Partners
Quintessentially
World's leading concierge service providers Quintessentially and our team at BLADE India have created an annual package for BLADE charter customers at preferential prices. Quintessentially customers also get benefits on booking with BLADE.
Retail Partners
Mumbai Duty Free
Fly Out to Fly In with BLADE.
Get BLADE vouchers when you shop at Mumbai Duty Free and ditch the traffic from the airport, fly from our Juhu lounge instead.